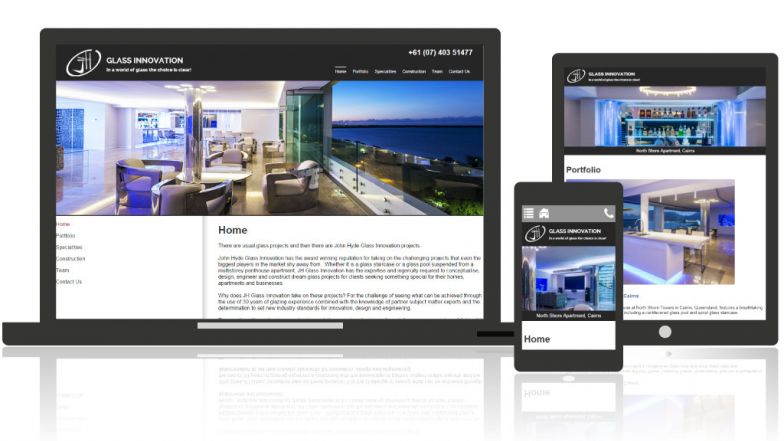 Best Website: Medium
Winner | Townsville Port Authority Website | 2006
Finalist | Ingan Tours | 2012
Finalist | Peace Lutheran College | 2009
Finalist | Dundee's Restaurant | 2007
Best Online Editorial / Blog Post
Winner | Imperfect Mum Website | 2012
Best Use of Flash Animation
Best Website: Small
Finalist | Tammy Barker: Website | 2005
Finalist | Nicole Rose | 2005
Best Website: Large
Winner | Harleys Educational Website | 2007
Finalist | Cairns Region Group Training | 2009
Best Banner Ad for Website
Finalist | Harleys Educational Website | 2008
Best Digital Marketing Campaign - Corporate
Finalist | Kristy Vallely's Website | 2016
Best CMS Website
Finalist | Allaro Homes | 2013
Visual Obsession offer an award-winning team of Cairns web designers and Cairns web developers, dedicated to getting your Cairns website or E-commerce site online and fully functional. We are passionate about using open source technology to develop websites that are easy to use and look stunning. We offer a wide variety of functionality features that can be customised, without sacrificing the art of simplicity.
Websites that we build are modern, clean and fast: utilising the latest Web Technologies including HTML5, CSS3 & Javascript. We are Cairns web developers with a vision for the future. We want you to be in control of your website, managing your own content, e-commerce store, or online marketing and search engine optimisation campaign. Our Cairns web design studio has consistently won at the Queensland Multimedia Awards, and we hope the quality of our work speaks for itself.
Read more about Cairns Website Design
Website Usability
First impressions matter. A clean and simple interface will encourage your potential customers to spend longer on your website. Our Cairns web designers and Cairns web developers create clean, easy-to-use websites to help your customers quickly find relevant information, and guide them to featured areas of your website. Good design and easy navigation are essential elements which reinforce the credibility of your organisation.
Search Engine Optimisation
At Visual Obsession, our Cairns web design team is determined to achieve top search engine rankings for your website without resorting to nasty tricks. You can keep your own website optimised as you go, without having to hire middle-men. Your new website will allow full control of keywords and meta-tags in a groundbreaking, user-friendly interface. We also offer tips and advice on keeping your website search engine optimised, choosing keywords and sourcing links, because we want your website to be the best it can be.
Content Management System
Be liberated! Your new website will set you free to make updates and changes anytime, anywhere. Simply browse to your website, login with your username and password, supplied by our Cairns web developers and use our dead-easy CMS interface to update your website content, add webpages, and upload photos or products to your online store. No coding to learn, software to install or calling the tech-guy for simple updates which you can do yourself.
E-Commerce and Online Shops
Whether you want to start a full, online business or just sell a few products on the side, let us take the complexity out of E-Commerce. Subscriptions, automatic payments, split transactions, stored accounts, secure connections, SSL, PayPal integration and Ebay Transactions are a few of the user-friendly, online payment solutions we can build to suit your requirements and most importantly, meet your customers' needs.
Website Hosting
At Visual Obsession, our web servers are our pride and joy. We have spent a lot of time and money to get the fastest, most reliable hosting in the wild west, fine-tuned to make your website fly. We can also offer integration with a cost-efficient CDN (Content Delivery Network) which will separate your media (images, video, etc.) and serve it to your customers from the closest of a network of servers across the globe. Best of all, we offer a heavy discount on hosting when we build your website.
Website Statistics
Measuring your Cairns website performance is critical for long-term success. By integrating your website with Google Analytics, you can find out vital statistics including exactly how many visitors your website gets, how long they stay, where they come from, what keywords they used to find you, and which are your most popular pages. You can also measure the effectiveness of your television, radio, print or email marketing by monitoring areas of high traffic.
Web Animation
Whether subtle or outstanding, animation will add an extra "zing" to your website. Utilising HTML5 & CSS3, you can knock the socks off your visitors with a unique and creative introduction, an eye-catching animated header, subtle background music or animated button rollovers. Each of these elements will bring an extra dimension to a traditional website. It is important to strike the right balance between presentation and functionality.
Photos
Photo galleries are a great source of website traffic and entice visitors to stay longer. Your new website will allow you to upload photos from any computer simply by clicking browse. Photos will be automatically resized and cropped to fit so you don't have to do a thing. An impressive option is to have large hero-shot photos in the header of every page.
Video
Video clips will give your website the edge. From interactive walkthroughs for real-estate properties to fully-featured video galleries with comments and 5-star rating systems, videos are a great way to build an online community and establish your brand. We recommend integrating with YouTube for double exposure. Your videos will be available on your website, as well as YouTube.